Carton Packing Machine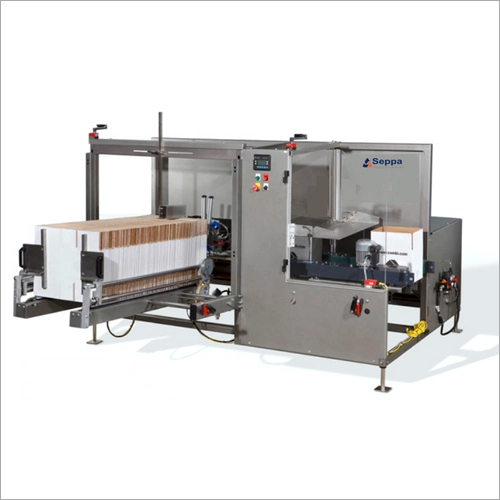 Carton Packing Machine
Product Description
CARTON ERECTING MACHINES
Our carton erectors are designed to form carton boxes and seal the lower flaps with either self-adhesive tape or hot melt glue.The box drawing and opening unit is made up of a suction disk system, which is in constant movement. Lower flap bending is obtained mechanically by levers and guides
Canadian Crystalline are suppliers of carton erecting machines for various size boxes and for low to high speeds.We can supply machines with both PVC tape sealing as well as hot melt glue sealing of the bottom flaps

Carton Erector & Tape (PVC)

Carton Erector PV
Carton Erector Hot Melt
CARTON CLOSING MACHINES
Canadian Crystalline supplies carton sealing equipment for low and high speed outputs

We can offer both hot melt glueing and PVC tape sealing of the cartons. Automatic Hot Melt Gluing Machine is suitable to close the upper and lower flaps of American carton boxes, already filled in, and to seal them by means of Hot Melt glue The machine is complete with:

Spacing system for carton boxes.
Adjustable device to draw carton boxes by their side, fold and press their flaps.
Nordson gluing unit
Safety guardst
PVC Tape Case Sealer
Carton Packing Station
Hot Melt Carton Sealer
Automatic Hot Melt case sealer with side driven belts and manual dimensioning, suitable to seal the lower parts of boxes of the same size coming from filling line. It does not require the presence of an operator. The box coming from a filling station, with the bottom part sealed, is taken and driven through the driven belts inside the machine where injectors apply 4 strips of Hot Melt glue. The upper flaps, after being folded, are kept in pressure by a suitable presser until the next box arrives. The Hot Melt sealer does not require the presence of an operator except for the glue adjustments and feeding. It is equipped with an anti-accident guard with panels which prevents the operator from coming into contact with the moving parts or with high temperature parts.

CARTON WRAPAROUND MACHINES
Our carton wraparound machines include automatic machines for the packaging of plastic, metal and glass containers in corrugated cardboard cases.

The trays can be octagonal or rectangular, with walls having either the same height or different heights.
The machine incorporates three / four types of washing:
a) The case packers can achieve an output up to 45 packs per minute, according to the machine model and to the product.
b) Pack collations can vary according to the containers shape and dimensions. In general, the most requested collations are: 2x3, 3x4 and 4x6.
Canadian Crystalline Wraparound Machine High Speed
Bottle Wraparound Machine
Our Wraparound machines include automatic machines for the packaging of plastic, metal and glass containers in corrugated cardboard cases. The trays can be octagonal or rectangular, with walls having either the same height or different heights. Our case packers are equipped with a grouping system and can be supplied with in-line or 90

Trade Information
Cheque

Asia, Australia, Central America, North America, South America, Eastern Europe, Western Europe, Middle East, Africa