Stainless Steel Industrial Ro Plant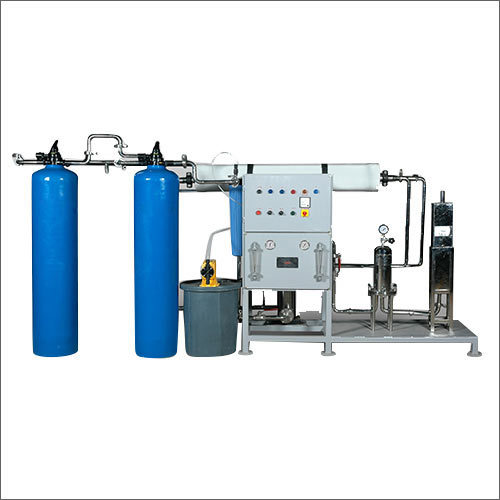 Stainless Steel Industrial Ro Plant
Price And Quantity
Product Specifications
Product Description
Filteration Equipments : : Reverse Osmosis System
Canadian Crystalline silver stream specialising in reverse osmosis water purification system.The product range has backing from one of the world leaders in reverse osmosis plant with a proven technical background. The reverse osmosis system offered are ideal for treating of raw water carrying over 1500 MG/LTR total dissolved solids. A combination of reverse osmosis/ion exchange demineralising system is the answer for production of higher system.
The Anti Scalent Dosed water passes through the 5 Micron filter to the state of art Reverse Osmosis Unit. The RO membrane reduces the total dissolved solid of water to less than 5 PPM. The RO Unit is totally manufactured in house by Canadian Crystalline. The RO Unit is specially skid mounted in a compact powder coated system. The membrane used in the RO system are state of art Polyamide membrane manufactured by M/s. Canadian Crystalline.

The membrane housing are made of high pressure resistance fiber re-enforced plastic (FRP) or SS and manufactured by M/s. Canadian Crystalline. The system comes complete with high pressure Canadian Crystalline pump manufactured by us, which is totally SS 316 material of construction as well as high pressure and low pressure cut off switch, flow indicator for rejection and product water high pressure solenoid valve and control panel. The advantages of the Polyamide membrane to any other membrane offered is cast. As the membrane is superior to any other RO membrane available in the market, Nano filtration or ultra filtration is not required for post RO system.

Low Cost Solution for Salty, Coloured Contaminated Water
Do you know using dirty water can cause:

Unsafe water can cause internal and external problems. Diseases like typhoid, Dysentery, Jaundice and cholera can play havoc with ones system. Other physical damages may include loss of hair, skin discolouration and roughness House & Residential Complexes
Corporate & Multistorey Buildings
Offshore Oil Rigs
Ship & Boat
Health Benefits While Using Canadian Crystalline Water Purifier :
A Canadian Crystalline Reserve Osmosis (RO) System uses a special semi permeable TFC membrane Filter. TFC / Thin Film Composite Filters reject a higher percentage of all dissolved solids including Sodium, the smallest of molecules.
The Unit changes Normal Tap water into Fine Quality Drinking Water.
The greatest advantage of our silver stream unit is that no harmful chemicals are carried over to the final water.
A Canadian Crystalline Reverse Osmosis System provides an unlimited supply of fresh drinking water and portable water free of harmful chemical and pathogens.
Canadian Crystalline RO water certified as

Baby safe
Ideal for Pregnant Women
Ideally suited for Aged people
Recommended for sports and fitness
Diuretic (Detoxifies the Kidneys)
Nutritive (Rapid Fluid Replenishment)
Good for Ophthalmology (Skin and Facial Care)
An Excellent Hair care product (indicated for growth and maintenance of hair. Provides shine)
Essential for pharmaceutical industry
Apt for the food industry
Good for Dental hygiene (Brushing of teeth with RO water keeps you and your gums healthy and you can also avoid water borne diseases which can be acquired during brushing gargling)
The best solution for Internal Care :

By removing lead, Bacteria, Cysts and Organic chemicals you minimize the risk of Cancer, Anemia, Kidney Damage and High Blood Pressure.
Domestic Benefits :

Healthy Body makes a Bright Mind
Less Detergent usage
Eliminates rusting to large extent
Canadian Crystalline Commercial RO Systems :
Our commercial Canadian Crystalline RO systems are designed for brackish water applications where high output is required, such as water bottling plants, domestic, industrial use, real estate developments etc., These units include state of the art reverse osmosis technology, that allows fully automatic operation.
High Output Commercial RO Equipment :

These systems are designed for any application that requires high output reverse osmosis equipment. We can also customize these units as per the feed water parameters, whether it be Bore Well or brackish Water.
Our Canadian Crystalline plants are equipped with large commercial type sediment filter to remove suspended solids down to 5 micron in size. Other standard components include centrifugal high pressure pumps. TFC membranes, full instrumentation, high pressure regulation valve, analogue water quality meter, and built in membrane cleaning and preservation system.

All of the components are of the highest quality, and arranged on a single compact frame, for maximum utilization of space. The Canadian Crystalline equipments can be custom designed to work with feedwater that contains up to 12,000 parts per million of total dissolved solids.

What is Reverse Osmosis?

Osmosis allows a living cell to select only the correct minerals needed to sustain existence while rejecting of those minerals which would be harmful.
A Canadian Crystalline reverse osmosis system works much the same way. It uses a special semi-permeable TFC membrane filter. TFC, or thin film composite filters reject a higher percentage of all dissolved solids, including sodium, the smallest of molecules. The unit changes normal tap water into fine Quality drinking water. It is important to note that no chemicals are used anywhere in the entire process.

A Canadian Crystalline Reverse Osmosis System provides an unlimited supply of fresh drinking water free of harmful chemical.

Features :

Outputs available from (5000 Ltrs/Day ) to (10,00000 Ltrs/Day)
Epoxy coated frame / SS304
Centrifugal H.P. Pumps / Vertical H.P. Pumps
TFC membranes
Built in membranes cleaning tank
Built in recirculation clean pump
Magnetic starter
Liquid filled high/low pressure gauges
Analogue T.D.S. Readout meter
Two commercial type profilers 20 and 5 microns
High / low pressure cut off switches
Nema 4 electrical enclosure
Membrane auto flush system
Status indicator lights
Product and brine flow meter
Time delay device for efficient start up
Automatic start/stop with float switch (optional) (Features vary depending on customer requirement)
We are exporting superior quality customized Industrial RO system across the globe that is used in various industries and homes. RO Plant uses a reverse osmosis process where two solutions having different solute concentrations are separated. Using osmotic pressure, high solute concentrate solution is passed through a semi permeable membrane.
Our RO plants are capable of treating highly concentrated wastage water through stages like chemical treatment and micron filtration among others. Being highly effective, user-friendly, and resistant to chemicals & corrosion, our plants are extremely popular among the clients